What is it about drugs in films? Say what you will about the negative effects they have in real life but when it comes to cinema there is some really astonishing films that deal with this subject matter. And boy does it lead to explosive and intense consequences. Bryan Cranston is stepping back into the drug business in Brad Furman's new film The Infiltrator (2016), so let us look at some of cinema's criminal portrayals and see if yours is in today's list. An honourable mention goes to Carlito's Way (1993), one of my favourite Pacino movies. However it does not necessarily handle straight forward drug dealing as such.
10. Blow (2001)
Starting the list this week is Johnny Depp's portrayal of real life cocaine smuggler George Jung. George is a small time cannabis dealer in Los Angeles. When he starts earning good money, the demand for product is soon increased. Which sunk him deeper into the world of distribution, and very soon into the hands of Pablo Escobar. Very much like the recent Mr. Nice (2010), the film itself has been said to have played with the truth a tad. However it is still a really great film and one of Depp's most "normal" performances that proved his worth as an actor who can play more than just eccentric characters.
9. Pineapple Express (2008)
Possibly the easiest going entry on the list today. Seth Rogen and James Franco play a stoner and his unreliable dealer respectively. After Rogen witnesses a murder, he realises that he can be tracked down through a new product hitting the streets that only his dealer has access to. They find themselves on the run and try their hardest not to get caught, and also stay as high as possible in the process. It's a really dumb film but one of Seth Rogen's best. James Franco is also really good as his dopey dealer and the two work so well together. You could watch the film no matter what mood you're in.
8. New Jack City (1991)
Every film on this list is a favourite of mine in some way. This is sure to be one of them too. Wesley Snipes plays drug lord Nino Brown. A drug dealer who took advantage of the crack epidemic in the late 1980's, and now rules New York City with an iron fist. Ice-T and Judd Nelson are the undercover detectives who set out to take him down. However with a giant crack fortress known as "the Carter" to dismantle first, it will be no easy task. An unbelievably slick film with a really cool Hip Hop and R&B soundtrack. The film screams of early 90's nostalgia, but that's a good thing in my books. A really entertaining thriller not to be missed.
7. Requiem for a Dream (2000)
Okay remember how light Pineapple Express was? Things are about to go way, way down now. The film follows the lives of four people: Harry Goldfarb (Jared Leto), his mother Sara (Ellen Burstyn), his girlfriend Marion (Jennifer Connolly), and his friend Tyrone (Marlon Wayans). The film follows each character who deals with their own addictions. Harry and Tyrone go into the business of selling heroin, however they are both addicts themselves, as well as Marion. And Sara overuses her prescription medication to the point of no return. It is an unbelievably harrowing experience from director Darren Aronofsky. But a rewarding one. Just prepare yourself because the final twenty minutes will be one of the tensest cinematic viewings you will ever witness.
6. American Gangster (2007)
The good man Denzel Washington has made the list now (as we knew he would) with tough guy Russell Crowe. Washington plays former heroin smuggler Frank Lucas. Who during the 1960's and 70's, smuggled heroin into the United States from service planes coming home from Vietnam. Crowe plays Detective Richie Roberts, the man who is determined to catch him. Ridley Scott is the man in charge and boy does he do a fine job. Denzel gives us an antagonist who could arguably be on a list of "the noughties best villains". Just see what he does on a busy street in Harlem in broad daylight, not the type of person you want to get involved with.
5. Brick (2005)
Say what you will about Joseph Gordon-Levitt, but he has not had a better film since this in my books. Brendan Frye (Gordon-Levitt) is a high school student whose girlfriend is murdered and dumped in a drain tunnel. He then takes it upon himself to solve the case. Bringing him into different cliques and criminal activities that soon wind down to a link between his girlfriend Emily (Emilie de Ravin), and a brick of heroin. Ten years later and this should be regarded as a neo-noir classic by now. A very stripped-down, simple, hard-boiled Detective story that hits all the right notes. Deserves way more status than it is given these days.
4. City of God (2002)
Wow, the noughties have really dominated this list today. We head over to the favelas of Rio de Janeiro now which saw the rise of gang warfare in the late 1960's to the early 80's. Li'l Zé (Leandro Firmino) is in control as the city's main drug dealer, the only one close enough to rival with him is Carrot (Matheus Nachtergaele). But when Li'l Zé messes with Knockout Ned (Seu Jorge), a war for the streets soon breaks out. And when a young photographer named Rocket (Alexandre Rodrigues) finds himself in the middle, it could be the break he was looking for. Or the end of his life. A really vibrant and intense film but such a brilliant piece of world cinema. Themes of class struggles and revenge are rampant but it really is one of the greatest films to ever come from Brazil. For me anyway.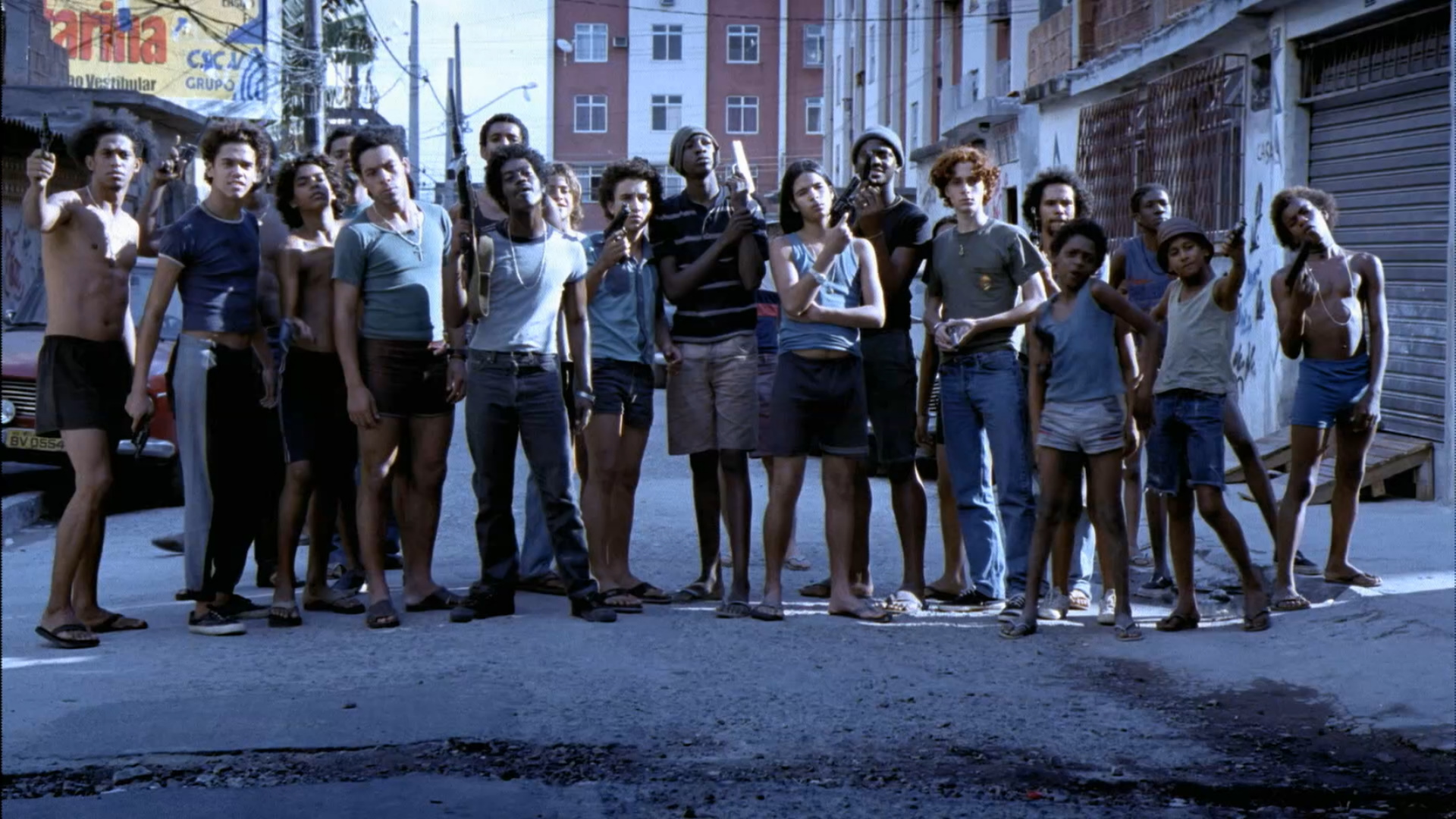 3. Trainspotting (1996)
It had to be here. The 90's classic Starring Ewan McGregor and directed by the great Danny Boyle follows in the footsteps of everyone's favourite heroin addicts. Renton (McGregor) is a low life junkie who tries and fails to get clean. And with the company he keeps: a con-artist, a simpleton and a psychopath (Johnny Lee Miller, Ewen Bremner and Robert Carlyle), he really doesn't have much hope does he? But what if a drug deal could help turn it all around? One of the defining films of the 1990's and voted as one of the greatest British films of all time, it really is hard to find any fault here. And with a soundtrack as perfect as this one, that's just the cherry on the cake.
2. The French Connection (1971)
I actually wished this was number one but I just couldn't do it. "Popeye" Doyle (Gene Hackman) and his partner "Cloudy" Russo (Roy Scheider) are two police officers who discover that a large amount of heroin is being distributed to New York City soon. Upon hearing the news, both men instigate and investigation which soon puts their lives at risk from some very shady characters. A landmark achievement in 1970's cinema with director William Friedkin going on to make The Exorcist (1973). And one of the most stand-out moments involving the car chase with the elevated train. Forget that Fast N' Furious nonsense, this was on the streets on Brooklyn in the early 70's, and the results still stand firm well into the 21st century. Don't miss it, it is really mind blowing.
1. Scarface (1983)
This had to be number one. Even through my own list I couldn't deny it the top spot. Tony Montana (Al Pacino) is a Cuban immigrant heading for the States to pursue the American dream. And before he knows it, he is the biggest distributer of cocaine in Miami. But soon his own intake becomes too much, and paranoia and his ego soon become his downfall. Although it is arguably Pacino's most famous role, I actually really prefer Carlito Brigante in Carlito's Way (1993) (I know but he is just a much better and more sympathetic character to me). But it is hard to deny the cultural impact of Tony Montana as one of cinema's greatest anti-hero's. And it deserves the spot here because regardless of what I think, this will always go down as the best drug dealer film ever. Thank Brian De Palma and Oliver Stone for that.