Ask yourself, out of everybody you know, who doesn't like "The Rock"? If anyone says they don't, they just deserve a slap. Although he has reached a very lucrative point in his career, I remember him fondly growing up watching WWF/WWE as he was one of my heroes. Having an in-ring persona that appeared much larger than life would seem to pay off as he transitioned into film and television work. His charisma has been noteworthy of turning even some pretty bad stinkers into something of entertainment value once he is somewhat involved. Today's list will feature both lead and minor roles, and for the sake of fairness, will only be including one entry from The Fast and The Furious franchise. So where to start?
10. Pain & Gain (2013)
I know. I'm including a Michael Bay film in my top ten. What has become of this world? As awful as I think his films are (including this one), it is saved in some way due in large part to Johnson's role as a buff, coked out ex-con turned Christian. Although "Marky" Mark Wahlberg can always deliver in comedic roles in my view, Rocky just has to take the bulk of the credit for attempting to save this monstrosity.
9. Walking Tall (2004)
Everything about this film should really fail on so many levels. And just trust The Rock to come and save it. A remake of a 1973 film of the same name, it follows a man who comes back to his small town from the army and finds a hotbed of corruption. So he takes justice into his own hands, whilst brandishing a 2×4. That premise alone sounds absolutely ridiculous, but somehow I think the film is just fine. Thanks in large part to the Rock to make it as ludicrous but entertaining as possible.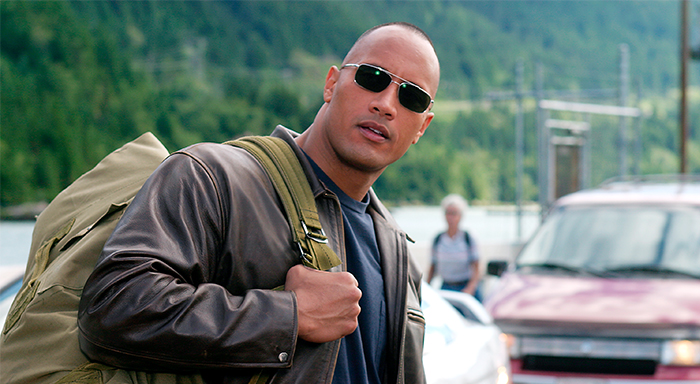 8. Be Cool (2005)
Ok, quite frankly this film is just pretty bad. I saw it when first released in cinemas having not had the chance to watch Get Shorty (1995) beforehand (which was infinitely better), so I didn't have any expectations going into it. And it was just awful. However, Dwayne's performance as a gay bodyguard trying to become an actor was just hilarious to me, which was the one standout performance amongst everybody else who tried to make the film work.
7. The Scorpion King (2002)
I was a big fan of The Mummy movies back in the day, significantly the first film. So going into this, I was a bit skeptical that it would just suck. But to be honest, for what it is, I still really enjoy this one. It proved that The Rock could take the lead in an action movie, and although it is no masterpiece, I still find it a lot of fun. It had humour, some big action set pieces and typical manly action which The Rock is more than capable of handling.
6. Get Smart (2008)
To be honest, I was never a huge fan of Steve Carrell. Yeah, he had his moments in the likes of Anchorman: The Legend of Ron Burgundy (2004) and The 40-Year-Old Virgin (2005), but I just found a lot of his performances in other things quite irritating. But yet again, a film I went into with no interest was changed around by several components, one being Dwayne. And yeah it wasn't as great a film as it could have been, but some highlights including that kiss which are sure to tickle the funny bones.
5. The Other Guys (2010)
The Other Guys is one of my favourite comedy movies of the decade. And although Dwayne only plays a minor role alongside the great Samuel L. Jackson, it is truly memorable. Playing two of the best (although destructive) New York city's finest has to offer, their roles are both cut short due to an unforgettable chase sequence which had me laughing with tears in my eyes once it reached its climax. And with the Foo Fighters backing up something that should have been an epic moment, it just cuts short like a needle going off the record. Still, makes me laugh like an idiot every time.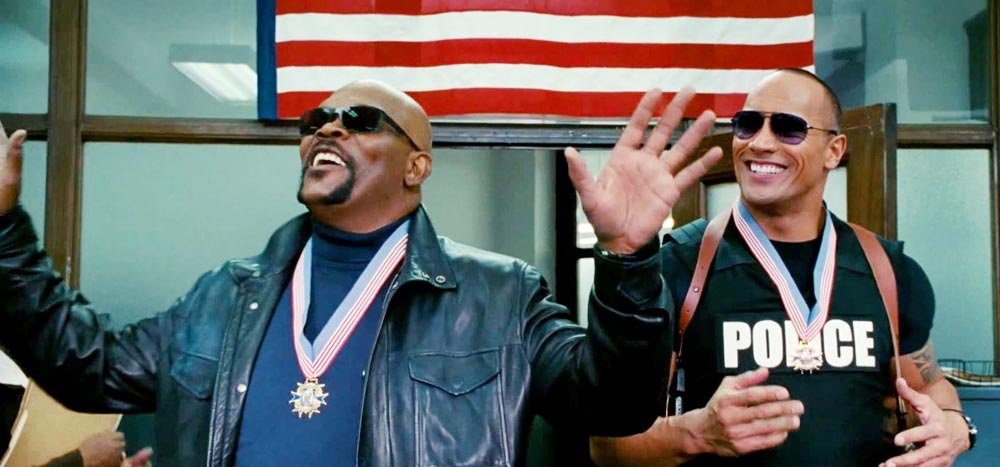 4. Welcome to the Jungle (2003)
Welcome to the Jungle (or The Rundown) is the first comedy film Johnson got himself involved in. Starring alongside Sean William Scott, I never expected it to be that great. And it turned out, I was wrong, it was actually pretty funny. Yeah, some of the action scenes are a bit silly but like I said, my expectations were not that high. So for the first role in a comedy film, I tip my hat off to him. Once I saw it I knew that this guy had more talent than just wrestling and that this was one of the moments we all knew it. Well, that's how I feel about it anyway.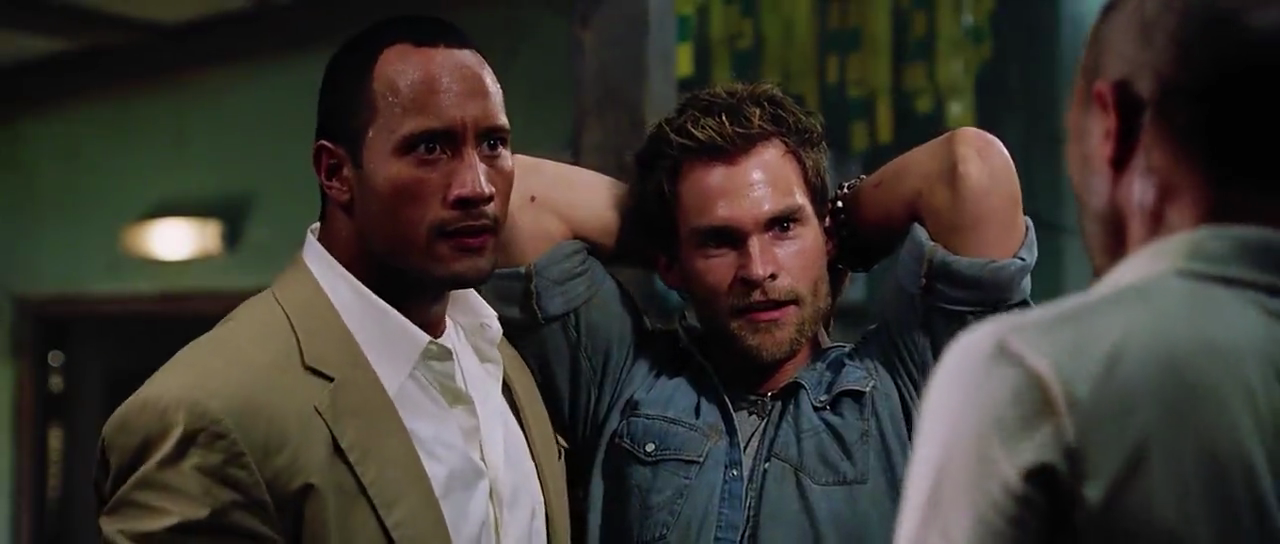 3. Central Intelligence (2016)
This film was Dwayne Johnson proving to me he is just as capable of handling a comedic/action role way more than I thought. Although he has proven that he could time and time again, this film for me was what talent The Rock can show off when given a good script, and paired up with a comedic talent in Kevin Hart, who once in a while can make a pretty funny movie (I prefer his stand-up). The action scenes are decent, the humour is what you would expect from these two together, and it is exactly what I am looking for when I want to see a film starring The Rock.
2. Beyond the Mat (1999)
I'm quite sure that most people who read this may not be wrestling fans. But it is worth mentioning that this documentary marked the feature film debut of Dwayne Johnson. And seeing as I am a big wrestling fan, The Rock played a very significant role in this. Playing a heel (a wrestling phrase for a bad guy), a pinnacle scene involved himself and Mick Foley in a match in which The Rock struck Mick on the head with a chair eleven times, as his children cried in the crowd. Although you could laugh and think that it was fake, between both men it truly brought out the consequences of what performers like that put themselves through in the name of entertainment, seeing as Foley suffered a huge gash in his head in the aftermath. I would honestly put this at number one, but I think people know what to expect next.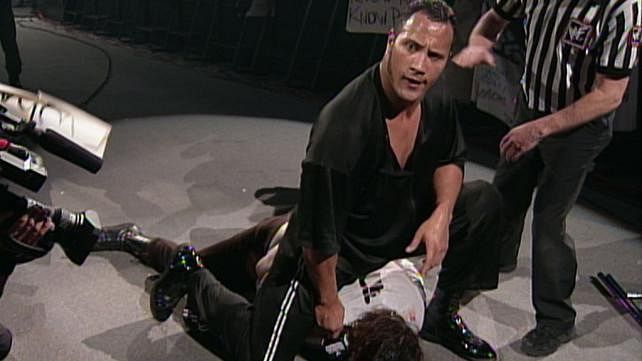 1. Fast Five (2009)
I always thought The Fast and The Furious was a stupid franchise. For one I don't really give a shit about cars. After seeing the first three films, like everybody else, I just kind of gave up on them. And although a fourth entry kicked the franchise off again, it never really got a true shot in the arm again until Johnson joined the cast. Playing a special agent tracking down Vin Diesel and his crew, this entry was a big shift from the previous films, taking its focus outside the street racing world it had wrapped itself in and became way more action-heavy to boot. This was the film that really got Johnson the more lucrative film contracts in his career, as he boasted a truly tough, beefed up role that would let him continue his career in Hollywood to shine through. And although he appeared to be covered in a little too much baby oil for most of the film, I will cut him some slack and say he has done a great job here and continues to do so.