We all know that most politicians are just a bunch of liars. I'm not a very political person myself, but it is abundantly clear that corruption runs rife throughout the world. No I'm not trying to start a political debate here. But with the release of War Dogs (2016) out this week, it seemed like a good idea to do a list of films involving the corruption of justice. Seeing as there is a ton of films involving this topic, I will focus solely on the ones I have watched only recently. An honourable mention has to go out to Farenheit 9/11 (2004). Although it is a film based entirely around supposed political corruption, it is still divisive in terms of political views, factual evidence, and people who love or loath Michael Moore. Also to Lord of War (2005) for an underrated Nicholas Cage film. Which is a rare thing to say. So let's get started.
10. Cop Land (1997)
I only watched this last night for the first time in years. And I have to say it may be Sylvester Stallone's most underrated performance. An all-star cast including the likes of Harvey Keitel and Robert DeNiro are also involved. Stallone plays the Sheriff of a small New Jersey town resided by New York City cops. However when he realises that the town is built on lies and corruption, he decides to do something about it for a change. Stallone had some pretty bad films throughout the 90's but definitely check this out, you won't be disappointed.
9. Internal Affairs (1990)
Richard Gere stars in one of his most memorable performances as Dennis Peck; a respected member of the L.A.P.D. and all around hero of the department. However, after a suspicious drug bust, Internal Affairs sends out Raymond Avilla (Andy Garcia), to see whether the L.A.P.D. golden boy is really all that everyone makes him out to be. The film delves into the seedy side of a more recent Los Angeles and explores how bad Peck really is when he wants things to go his own way. Now that Avilla is in his crosshairs, he soon regrets taking on the case, as the corrupt cop makes his life a living hell. For a movie on a Friday night this one is highly recommended.
8. Changeling (2008)
Angelina Jolie was nominated for an Oscar in her leading role in the Clint Eastwood directed film. Jolie stars as Christine Collins, a mother in 1920s Los Angeles, whose son has gone missing. When the L.A.P.D have found a boy to deflect criticisms of incompetence, the mother realises the boy is not her own. It is here we are then shown how far the police will go to cover up a story, as Christine is deemed unfit and locked away due to what the political parties deemed as delusional. This true story also stars John Malkovich and is a must see in the canon of films directed by Eastwood.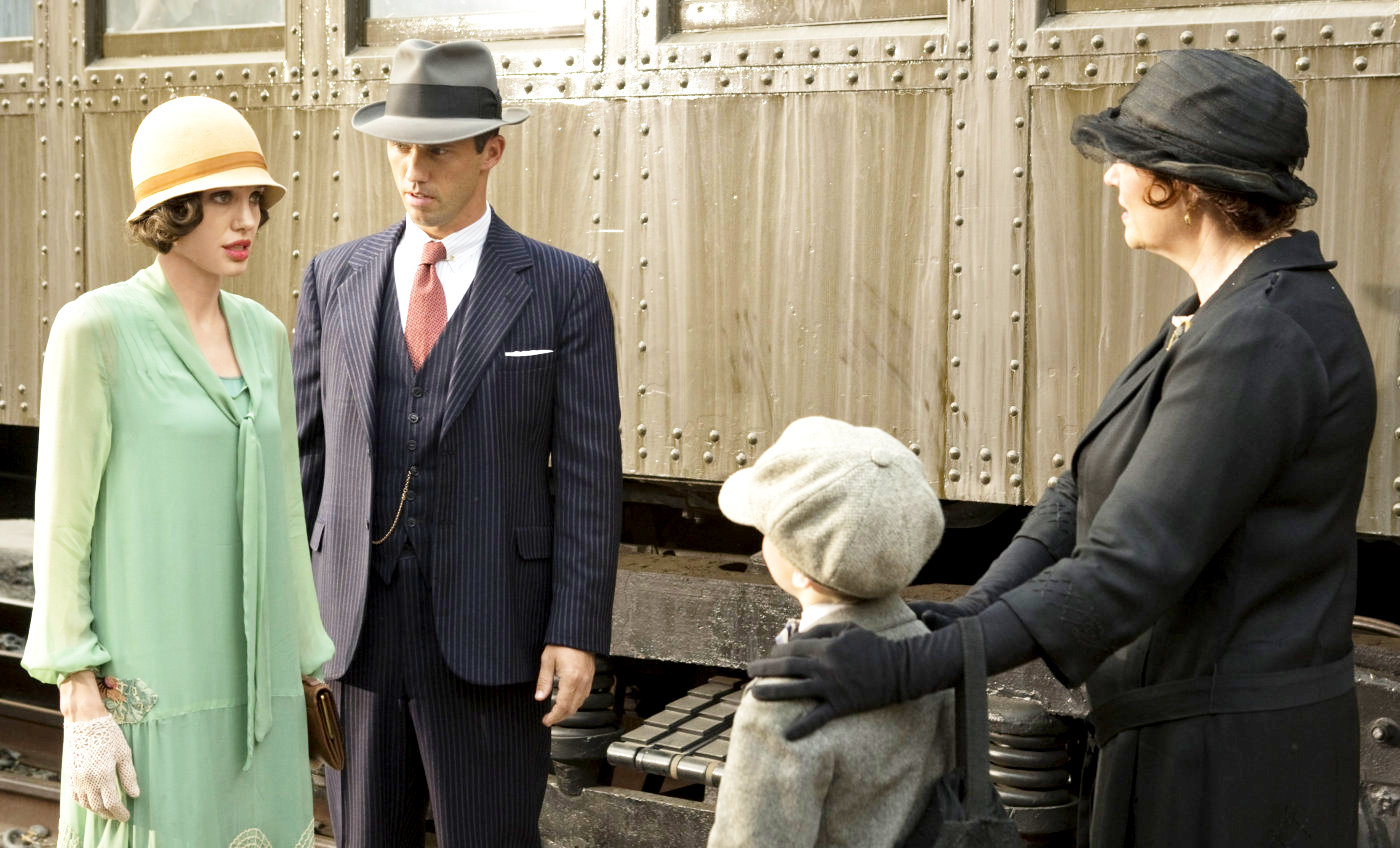 7. JFK (1991)
Stepping into Oliver Stone territory now. Kevin Costner stars as New Orleans District Attorney Jim Garrison. After the assassination of President John F. Kennedy, Garrison begins to suspect that a conspiracy is at play here, and the subsequent cover-up after the murder of Lee Harvey Oswald only furthers his curiosity. Although many accused Stone of taking liberties with the story, it is still a compelling piece of work. Also one of my favourite films in terms of editing, which it won an Oscar for (watch it, it is phenomenal). One of the greats of Stone's work without a doubt.
6. Mr. Smith goes to Washington (1939)
James Stewart stars in the Frank Capra's film in what many call one of the greatest films of all time. Stewart plays Jeff Smith, a junior senator who is taken under the wing by a well respected, but crooked Senator Joseph Paine (Claude Rains). Due to Smiths honest and humble persona, the Senator believes that Smith would be good for publicity, but believes his naiveté will be useful in manipulating him politically. However, Smith soon begins to take a stand against them all. One of the great James Stewart classics and one of the earliest examples of political corruption in cinema. So much so that politicians reportedly walked out of the first screening, deeming it un-American. Whether that is true or not, it is still a good story.
5. In the name of the Father (1993)
One of the more heart-breaking entries on this list. Daniel Day-Lewis stars as Gerry Conlon; a member of what the media dubbed 'The Guilford Four', who was accused and sentenced to prison for blowing up a pub in the 1970s. Being a Belfast man, the authorities got a lead he was an active member of the IRA, arresting him and many others and imprisoning them all for the attack. Jim Sheridan directs the tough courtroom drama about the miscarriage of justice and the lives ruined by people looking for a scapegoat. Although people again argued about the historical accuracy, it is still fascinating subject matter.
4. Serpico (1973)
Al Pacino plays the title character in one of the many great films of the 1970s. Pacino stars in the true story of New York Cop Frank Serpico. After earning the right to be in plain clothes, it soon becomes apparent that Frank's peers are delving in activities that leave him extremely uncomfortable. It is only when Frank cannot tolerate the corruption of his department any longer, he decides to do something about it. Nearly costing him his life in the process. The first collaboration between Pacino and director Sidney Lumet, and one of Pacino's finest performances. If you are a fan of Dog Day Afternoon (1975), this is the film for you.
3. All the President's Men (1976)
The combined powers of both Dustin Hoffman and Robert Redford are perfect and ground-breaking in this political thriller. Carl Bernstein and Bob Woodward (Hoffman and Redford respectively) are journalists for the Washington Post. When they are assigned to cover the break-in at the Democratic National Committee headquarters in 1972, they soon stumble on to something much bigger. Through an informant going by the pseudonym "Deep Throat", they soon find themselves in the midst of making history, in what is now referred to as "The Watergate Scandal". A film that has been hard to follow and parodied many times throughout the years. One of my favourite Hoffman films too.
2. Chinatown (1974)
Roman Polanski helms the great neo-noir classic starring Jack Nicholson and Faye Dunaway. Nicholson plays private investigator Jake Gittes, who is hired by Evelyn Mulwray (Dunaway) to keep track of her husband. Jake soon realises that he is caught up in a conspiracy involving the Los Angeles water and power, and its influence in corruption and murder. Robert Towne received an Oscar for best original screenplay for the film. Whilst at the time, Nicholson was deemed one of the best leading men in Hollywood for his memorable portrayal of Gittes. Although this was the last film Polanski would shoot in America, it is without a doubt one of his finest.
1. L.A. Confidential (1997)
The L.A.P.D. always seems to get a bad rep. But to be fair, for a film as good as this, it deserves the top spot. Guy Pearce and Russell Crowe play two cops who have their own way of dealing with justice. However when both men investigate a murder in a diner, they are soon stumbling upon (yet again) corruption in their own departments. Possibly one of the best films to come out of the 1990s. And boasting a stellar cast including Kevin Spacey, Danny DeVito, and Kim Bassinger as the Femme Fatale who attracts the attention of both Pearce and Crowe. If you want to talk about a film for a Friday or Saturday night, this is the choice. It is a common thing to see the seedier side of 1940s Hollywood. But when done so perfectly like this, their won't be any contenders for a long time to come.