So it's that time of year again! The Oscar season again. With a great collection of films and a great collection of performers, all eyes will without a doubt be cast expectedly upon Leonardo DiCaprio for his performance in The Revenant (2015). But it's been a many number of disappointing years for poor old Leo to get the Academy's acceptance and land that win. So let us look back on some truly outstanding performances that got Leo to where he is today, Oscars or not.
10. The Wolf of Wall Street (2013)
I'm going to be honest, I hate this film (don't shoot me). But to be in any way fair I will admit that the central performances of both DiCaprio and Jonah Hill were really the saving points. Chronicling the exploits of Wall Street big boy Jordan Belfort, DiCaprio (under the direction of Martin Scorsese) did give a humorous display of narcotic and sexual undertakings which at some points bordered on the surreal. So hats off to Leo for saving what there was from this over-stuffed vanity project (most likely funded by Belfort himself).
9. The Basketball Diaries (1995)
Going back to the 90's, after some great performances from This Boy's Life (1993) and What's Eating Gilbert Grape (1993), Leo steps into the shoes of troubled teenager Jim Carroll. A true story of a young talented basketball player who's life is destroyed thanks to the downward spiral of heroin abuse. The performance and the ramifications are very reminiscent to that of the German film Christiane f (1981) in terms of tone and the bleak atmosphere, a tough watch, but one that will stay with you for days.
8. The Aviator (2004)
Yet another biographical film (no harm in that), this time Leo plays the brilliant, eccentric, and slightly insane Howard Hughes; a huge figure and innovator in the aviation world, and director of some classic Hollywood films such as Hell's Angels (1930) and Scarface (1932). DiCaprio can play the eccentricity of Hughes' brilliance to perfection.
7. Blood Diamond (2006)
Quite a remarkable although traumatic and disturbing subject matter on the issue of Blood Diamonds and the civil war in Sierra Leone during the 90's and early 2000's. Leo plays Danny Archer, a gunrunner who discovers that a very large and valuable diamond has been discovered, and he will do whatever he can to acquire it. Although released to mixed reviews it's a solid if unremarkable film, the central performances of which, from both Leo and Djimon Hounsou, are intense, and incredibly powerful.
6. The Departed (2006)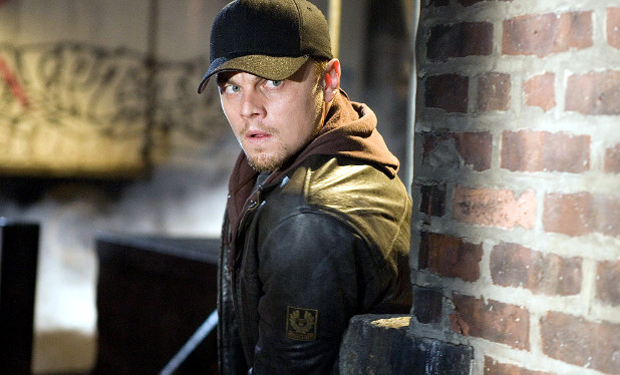 Another collaboration alongside the great Martin Scorsese hits this list with the brilliant English-language remake of the Hong Kong crime-thriller Infernal Affairs (2002). Billy Costigan is an undercover police officer in mob boss Frank Costello's (Jack Nicholson) gang, who succumbs to a dangerous cat and mouse game when it is discovered there is a mole in the police department itself (Matt Damon). A tense, at times humorous, and brutal account of Irish gangland activities in Boston, with solid performances, and Leo's constant paranoia (along with the audience) of whether he will be caught or not.
5. Inception (2010)
An excellent addition to Christopher Nolan's incredible filmography. A cool, smart, well-acted, and although convoluted at times story, it's a blockbuster that truly cannot be missed. With Leo leading an all-star cast, it's not a mindless, heartless, dull Michael Bay clunker, it's a masterclass in filmmaking that is nothing short of breath-taking.
4. Gangs of New York (2002)
The last Scorsese film on our list follows a fictionalized account of Irish Immigration and political and gang warfare in 1863 New York. When his father (Liam Neeson) is killed in battle, young Amsterdam Vallon (DiCaprio) swears bloody revenge against the ruthless gangleader William "Bill the butcher" Cutting (Daniel Day-Lewis). Even though Day-Lewis was the clear show stealer, DiCaprio almost matches him.
3. Catch Me if you can (2002)
Telling the real-life account of American con-artist Frank Abagnale Jr, a man who bluffed his way into pretending to be a top pilot, doctor, and prosecutor, who racked up millions of dollars before he was even 19 years old. A great Steven Spielberg production with superb performances from Tom Hanks as the agent looking to bring Abagnale down, and Christopher Walken as Frank Sr, but Leo steals the show as the clever con-man whose methods of trickery were truly extraordinary.
2. Revolutionary Road (2008)
For some the news will have to be broken that Titanic (1997) will not be making this list. Although it's the movie that sent Leo into the superstar spot, it's this Sam Mendes directed masterpiece that makes the cut. Although the stories of both Jack and Rose can tug at people's heartstrings, it's the account of Frank (DiCaprio) and April's (Kate Winslet) deteriorating marriage in 1950's America and tragic consequences that follow that really taps into the realities of married life. If you are looking for romance, this is not the film for you, but it's much more rewarding than Titanic.
1. Django Unchained (2012)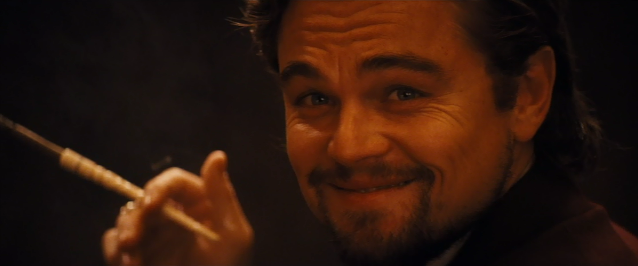 Okay, it has to be said, Leonardo DiCaprio has had a brilliant history of giving it his all in every single performance, whether you are a fan or not, it is hard to think of a film, either good or bad, where his acting was terrible. In his performance as the repulsive slave owner Calvin Candie in Quentin Tarantino's brilliant Western, DiCaprio should have gone home with an Oscar that year (although Cristoph Waltz did deserve his win). It is campy, over the top, and at times ludicrous, but the hatred and contempt in Calvin's horrific attitude towards another race can be incredibly sickening. And let us also not forget about the brilliant improvising and blood loss, which he uses to his advantage to show his bad ass side. A classic moment for the future generations.