Over the last forty years, Steven Spielberg has touched the hearts of many people, and enhanced the joy of the cinematic world throughout all of our childhoods in one way or another. The man just never seems to do any wrong no matter what material he may be handed (although some may disagree). Now that The BFG (2016) is in the cinemas and getting good reviews, he shows no sign of his genius slowing down. But what are the films that have made him such a renowned star throughout the world? And which of the following entries do you have fond memories of? Although there are so many honourable mentions, I have to put down the underrated Hook (1991), as I have great memories of that film as a child, and a great Robin Williams performance that does not get enough credit. Anyway, let us begin.
10. Empire of the Sun (1987)
The first film on our list is the film that helped kick-start a young Christian Bale's career. Bale plays a spoilt boy from a wealthy family living in shanghai during World War II. He is soon captured however, and placed in a Japanese internment camp amongst American soldiers, including the great John Malkovich. The first of a few films on this list dealing with WWII, the film itself is actually much lighter in tone compared to the later titles, and proof that at the time, Bale would grow up to be one of the most prolific actors of our generation.
9. Minority Report (2002)
The future-set crime thriller neo-noir (whichever way you want to put it) with an unusual twist. Tom Cruise plays a cop who, through the help of psychics, discovers who will be murdered within the very distant future, so that he and his team can stop it from happening. However, it isn't long before he is on the run himself for a crime he may, or may not commit. A marvellous intense film dealing with the themes of free will and even capitalism and government surveillance. It is definitely one of the more unique films in Spielberg's category with a great look at supposed future technology, and overblown visuals to give the film its own original look.
8. The Color Purple (1985)
For a white Jewish director to make a period film about the struggles of black women in the early 20th century, was some feat and Spielberg manages to pull it off with aplomb. Whoopi Goldberg plays a young woman who is forced to marry a widowed landowner after her children are taken away from her. The film deals with the years of abuse she suffers, whilst also managing to find her inner strength and self-worth thanks to two strong female role models in Oprah Winfrey and Margaret Avery, while Danny Glover plays the abusive husband. A tough film dealing with themes such as incest, rape and domestic abuse. But so worth the watch for some legendary performances from all the actors involved.
7. Catch Me if you Can (2002)
This film has been on previous lists, but it is hard not to include it here. The true story of legendary con-artist Frank Abagnale, Jr. played by Leonardo DiCaprio. A teenage boy who, before his 19th birthday, passed himself off as an airline pilot, a lawyer and a doctor. In the process forging cheques worth millions of dollars. Tom Hanks plays the FBI man set out to capture him, while Christopher Walken plays the young boy's father. Quite an upbeat film with even a few laughs thrown together as a slick game of cat and mouse ensues between the two men. One of DiCaprio's best and Hanks as always, delivers without fail.
6. Saving Private Ryan (1998)
The next film on the list dealing with WWII and features the returning Tom Hanks. The story of a group of soldiers set out to find the last surviving member of a family of brothers. One of the most intense opening scenes in film history with the now legendary Normandy battle sequence. The film itself also stars Matt Damon as the last Ryan brother, and will go down as one of the greatest war films of all time. Seriously that opening scene is phenomenal, I still think about it to this day.
5. Schindler's List (1993)
The last movie on our list dealing with WWII. Liam Neeson plays Oskar Schindler. A factory owner in Nazi occupied Poland who saved the lives of 1,200 Jews during the Holocaust. He is supported here by the great Ben Kingsley as Itzhak Stern and Ralph Fiennes as the psychotic Amon Göth, who oversaw the death of thousands of Polish Jews in his concentration camps. Possibly the darkest war film that Spielberg ever made, but his most famous of the lot. The depiction of the Holocaust and the concentration camps are some of the most disturbing throughout cinema, and will remain one of Spielberg's most personal and influential films regarding war ever.
4. Jurassic Park (1993)
I remember seeing Jurassic Park when it first came out in cinema, and according to my family, I looked out the car window for weeks to make sure dinosaurs weren't after us. One of the most influential films in regards to how we use special effects, and after nearly 25 years, they still look amazing. A simple plot involving an industrialist (Richard Attenborough) who uses cloning techniques to create a theme park of dinosaurs became one of the greatest blockbusters of all time which is hard to top to this day, even by its latest sequel Jurassic World (2015), which still pales in comparison in the effects department.
3. Raiders of the lost Ark (1981)
One of the greatest adventure movies of all time and one of Harrison Ford's most legendary characters. Ford plays archaeologist Indiana Jones who sets out to find the legendary Ark of the Covenant before a group of Nazis take possession, so that Hitler can rule an army of invincible soldiers. The films speaks for itself. It's fun, daring, and full of memorable characters. It wasn't afraid to get graphic for a family film either. A trend that continued with the later sequels, and a franchise so big that a 5th film is in the pipeline. The bullwhip and fedora will only ever be graced by one adventurous hero, who also hates snakes.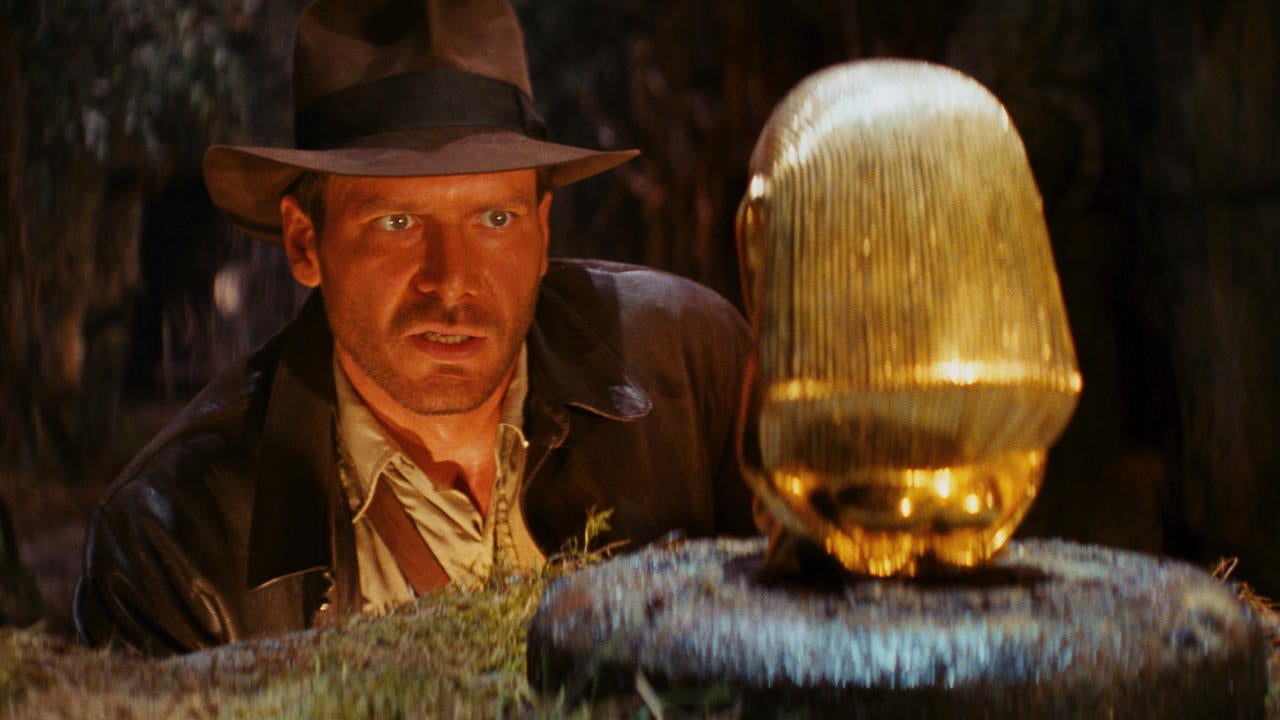 2. E.T: the Extra-Terrestrial (1982)
I'll most likely get given out to for this one being at number 2, but it has already graced the top spot on a previous list. Also it isn't my all-time favourite Spielberg film (don't kill me). Elliot (Henry Thomas) is a young boy who discovers an alien living in his backyard. When the two become best friends, Elliot soon starts to realise they are more connected than he thought, and helps him return to his home planet while keeping him a secret from everyone in the process. I don't know anyone that didn't cry during this movie at least once in their life. It is incredibly heartfelt, funny, and deals with topics of isolation and even religious symbolism. It is hailed as one of the greatest, if not THE greatest family movie of all time. And so it should be.
1. Jaws (1975)
As most people call it, "The birth of the Blockbuster". Spielberg made his name throughout the world with the forever lauded thriller about a killer shark. The film is infamous for the fact that the shark looked ridiculous in many ways during shooting. Therefore, Spielberg had to approach the film with more of a Hitchcock approach. The chilling thought of the invisible beast that struck at any time made people afraid to go in the water for decades. Sure it might not have meant more to people as the previous entries on this list, but the significance of Jaws was beneficial to the film industry which still has Spielberg to thank to this day. And I'll always regard Jaws as one of my favourite monsters in film, thanks to the iconic director.