Over the last twenty years Guy Ritchie has made some of the most entertaining British films, and a few absolute stinkers. I'll give the guy a break, every director has at least one film that stands out as either bad or everyone's least favourite. King Arthur: Legend of the Sword (2017) was just released to an overwhelmingly negative critical response (which by the looks of it I'm not surprised). But I want to look today at the films that have gone down as some of mine (and several others) favourite British films, all helmed by Guy himself. Ranking from his worst, to his best, let's get going.
8. Swept Away (2002)
Not much needs to be said about this one really. The film is a remake of a 1974 Italian classic, with actor Giancarlo Giannini's son reprising his role for this remake. And Madonna as the main protagonist and love interest (unlikely). Seeing as Ritchie and Madonna were married at the time it would seem inevitable for him to put her in one of his movies. And boy did it bomb. Being designated as a "flop", it also earned Madonna a Golden "Razzie" award, which is hardly surprising (although she has been good in other movies). Not a recommendation by any means. Believe me. Speaking of non-recommendations…
7. Revolver (2005)
This entry kind of bums me out because I had high hopes for this one back in the day. The thing about some of Guy's most popular films up to this point is how funny, sometimes stupid, and downright laddish at times they really are. So when this one tries to do the same gangster formula, but tries to be a lot clever then it thinks it is, it fails pretty badly. Which is a shame because I like everyone in this movie. Except for Jason Statham's inner monologue which was like nails on a chalk board. Finally after these two disasters, we can start moving onto something better.
6. The Man from U.N.C.L.E. (2015)
Based on the 1964 TV series of the same name, when I heard Henry Cavill was performing in this one, I had very little interest. Not that I hate Man of Steel (2013) or anything I just find Cavill quite dull in that roll. However, the chemistry he shares with Arnie Hammer is something I really did not expect. With Alicia Vikander thrown in there it really helps matters (because she is outstanding). But it's way more fun than you would think it would be and a definite recommendation to see how well Cavill does outside the Superman role.
5. Sherlock Holmes: A Game of Shadows (2011)
Although this series first film will be discussed later, let us take a moment to still appreciate this entry. Robert Downey Jr. and Jude Law are still both brilliant as Holmes and Watson respectively. And Jared Harris is just so diabolical as Moriarty. I don't want to say too much about this one as most of my feelings I have I will be expressing in a later entry. But what I will say is that at the end of this film, I am still craving another sequel. And for me, to pull that off for two films in a row, is a sign for a job well done.
4. RocknRolla (2008)
After the flop that was Revolver, Ritchie finally came back to the world of British gangsters with the flair that made him famous. Although not as popular as those films, I still think this one is a lot of fun. A big cast including Thandie Newton, Tom Wilkinson, Gerard Butler, Tom Hardy and loads more, it is a typical guns and geezers movie, but still a funny one at that. The soundtrack is brilliant featuring the likes of The Clash, The Subways and Lou Reed. And it is just a movie to switch your brain off to and have a laugh. Although there were plans made for sequels which have since been quashed, I'm still kind of hoping they make a return. Unlikely, but still.
3. Snatch (2000)
Okay, Brad Pitts questionable gypsy accent aside, this is still a firm favorite in many circles. Snatch is one of those films with characters you will always remember, and packed full of one liners and black comedy just steeped in violence that you can't help but have a bit of a giggle over. Not to mention the cast full of top talent including Jason Statham pre-action movie star, Stephen Graham (who is brilliant as always), Alan Ford as the terrifying "Brick Top", and Vinnie Jones in a role that seems suited for him as "Bullet tooth Tony". All involving underground boxing, a precious diamond, and a severely annoying dog. After seeing it over twenty times at this stage, I still get a good laugh out of it.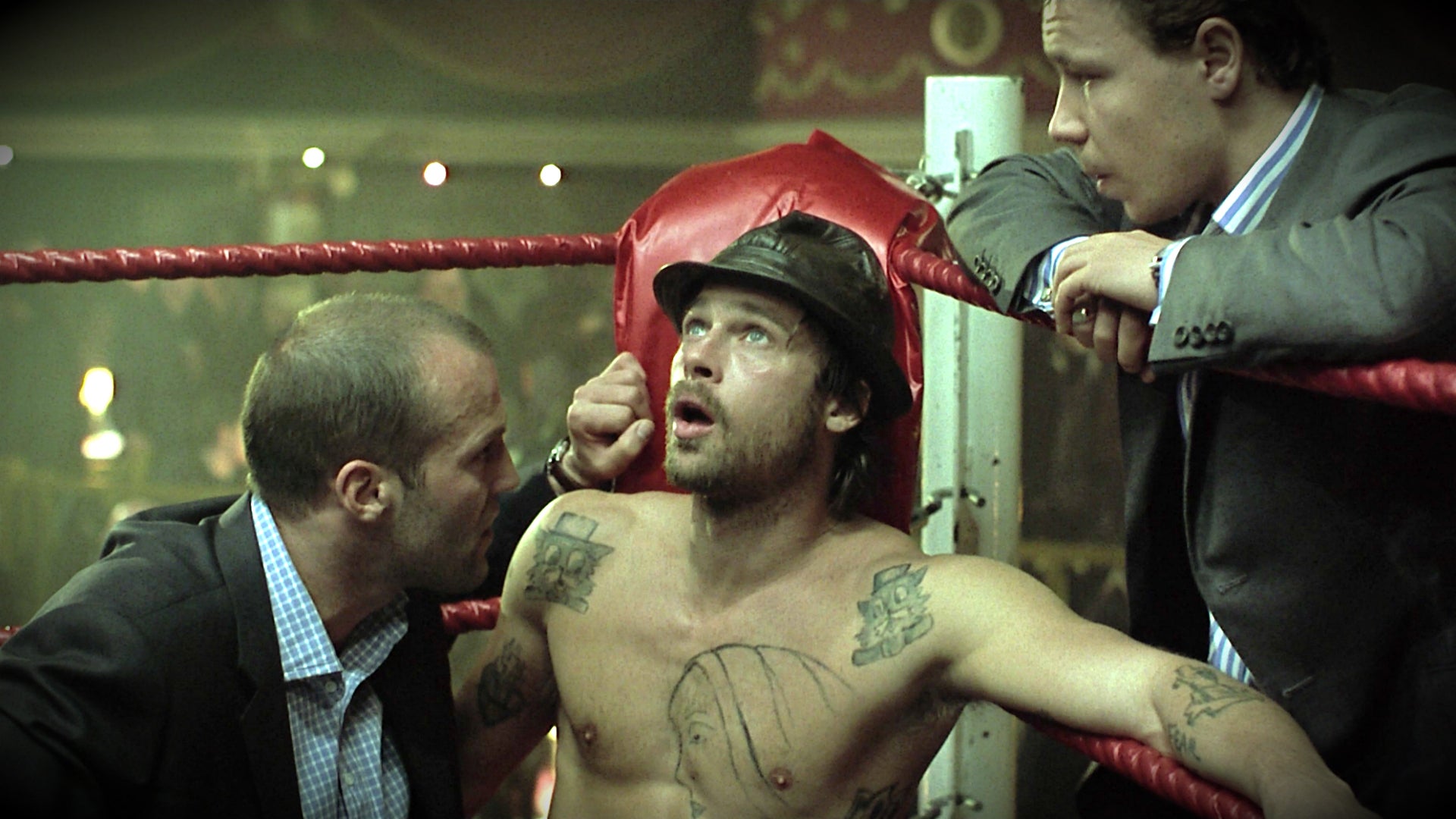 2. Sherlock Holmes (2009)
And now back to good old Holmes. This was a film that really surprised me as I didn't think Ritchie had it in him to make something this good outside of his usual gangster shtick. It was a slick, well edited, beautifully shot neo-noir thriller with both Downey Jr. and Law having a brilliant chemistry that just makes me laugh every time I see them. Even Rachel McAdams was brilliant which is strange coming from a Guy Ritchie film, seeing as they are mostly devoid of any female characters through most of his filmography. I'm sure most people have seen it at this stage but I would still watch it again and enjoy myself over and over. And with Mark Strong playing the villain you know you are getting an enemy you do not want to mess with. Just a ridiculously great film.
1. Lock, Stock and Two Smoking Barrels (1998)
The film that kicked off the careers of not only Guy Ritchie, but also the starting point for the new-found acting careers of both Vinnie Jones and Jason Statham. The story follows a gifted card player who is conned out of £500,000 by a local gangster, and so he and his friends decide to rob the flat next door being occupied by a group of small-time criminals executing a heist. Although Snatch brought a more international appeal including the likes of Brad Pitt and Benicio Del Toro, to me this is the quintessential Guy Ritchie movie. Full of characters you don't want to meet down a dark alley but laugh at their exploits none the less. And yeah it really is ultimately a "Geezer" movie, at the end of the day, it is still brilliant. And although he has done well for himself in adapting Sherlock Holmes, we can just hope he can evolve to make future films as good as the last two entries. Because quite frankly, I don't think he could ever do as good as these.